Welcome to Grove House Stables LLP
Our aim is for you to enjoy your time spent with us and for you to learn and have fun at the same time. Grove House Stables was established in 1991 with one horse, one pony and a very muddy field! We have certainly come a long way since then. Grove House Stables Equestrian Centre is a family owned and run business, with purpose built equestrian training facilities.
We aim to provide a supportive and inclusive environment where both horses and riders develop to reach their goals. We are a recognised BHS, Pony Club and Accessability Centre providing professional and recreational awards in Horsemastership and Riding.
We are proud to be part of the GH Group based at Grove House Farm.
Grove House Stables LLP offers a variety of lessons for riders with and without their own horse. It is a British Horse Society accredited riding school and training centre delivering a range of activities, courses and events for recreational, career and competitive riders within its purpose built indoor and outdoor facilities.
Download our current price list, or contact our friendly Reception team on 01427 890802 or email ghs1991@grovehousestables.co.uk to find out more.
Please take a look at our induction video which explains everything you need to know before your first lesson.
An important element of being an approved centre is ensuring that we operate an approved Health and Safety policy. This is something that we take very seriously, and we have an excellent record of safety at Grove House Stables. By choosing a BHS approved establishment you know you've chosen the best and you'll be in safe hands.
Being an approved centre means:-
• Health and Safety procedures are strictly adhered to.
• We have a policy that is strictly adhered to of non-discrimination on any grounds.
• We are fully licensed with the Local Authority.
• We are fully insured for Public and Employees Liability.
Choose the best. Choose an establishment approved by the BHS.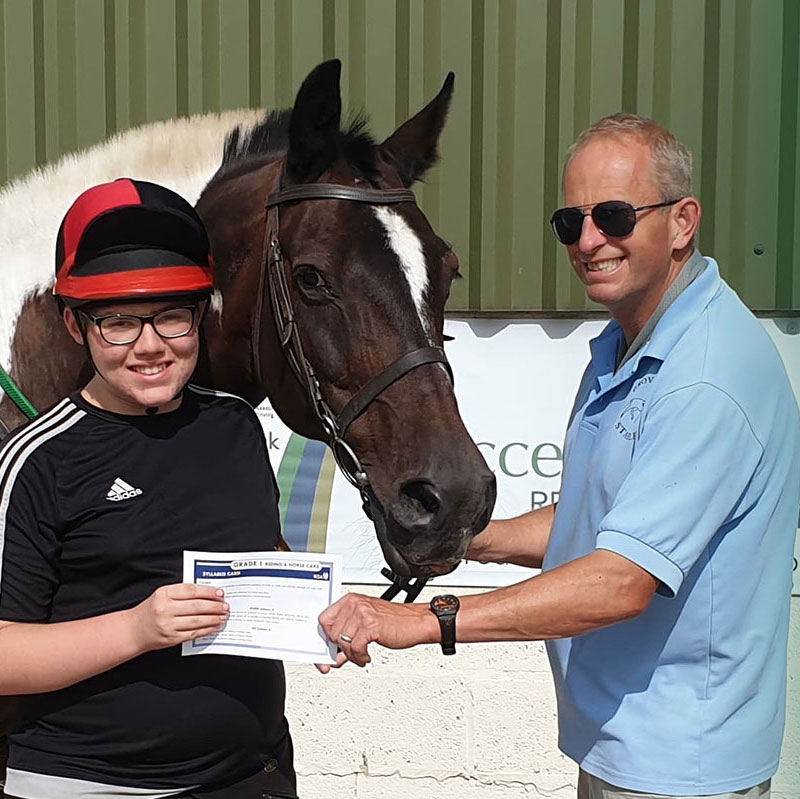 Andrew Stennett
BHSM Cert Ed FE Equestrian Coach and Consultant
Andrew Stennett is a British Equestrian Federation Elite Recreational coach. Andrew is a UKCC Level 4 Coach and is also a Coach Educator and Assessor. He is a Qualified Teacher of further Education specialising in Equestrian Learning and Development. He has trained with many leading coaches and developed many professional coaches for the equine industry.
In 1991 he founded Grove House Stables Equestrian Centre with one horse and his old showjumping pony. Today the centre has grown to have a range of horses and ponies, full indoor and outdoor facilities providing excellent training opportunities for career and leisure. He is available to coach a wide range of riders from novice to advance level with and without their own horses. Andrew specialises in giving confidence and inspiration to riders young and old so they can reach heir riding goals.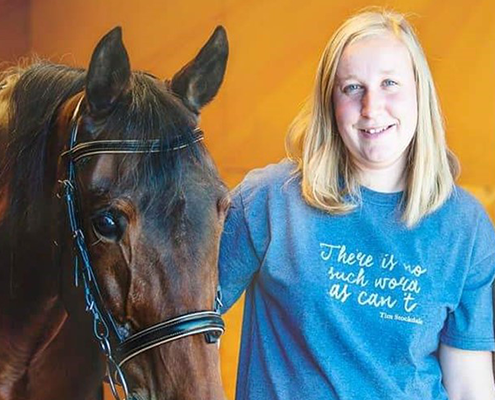 Jessica Boult
Hi Everyone. My name is Jess. I have been part of the team here at Grove House Stable since August 2010. My Main role is as the Office Manager, which I really enjoy. While working here at Grove House Stables I have completed my NVQ Level 2 in Customer Service, Work Based Diploma Level 2 in Horse care and my Work Based Diploma Level 3 In Customer Service.
I am also the Health and Safety Representative and the Shop Manager at GH Country LTD
When I'm not at the stables I can be found with other animals, which include my dogs, rabbits and much more!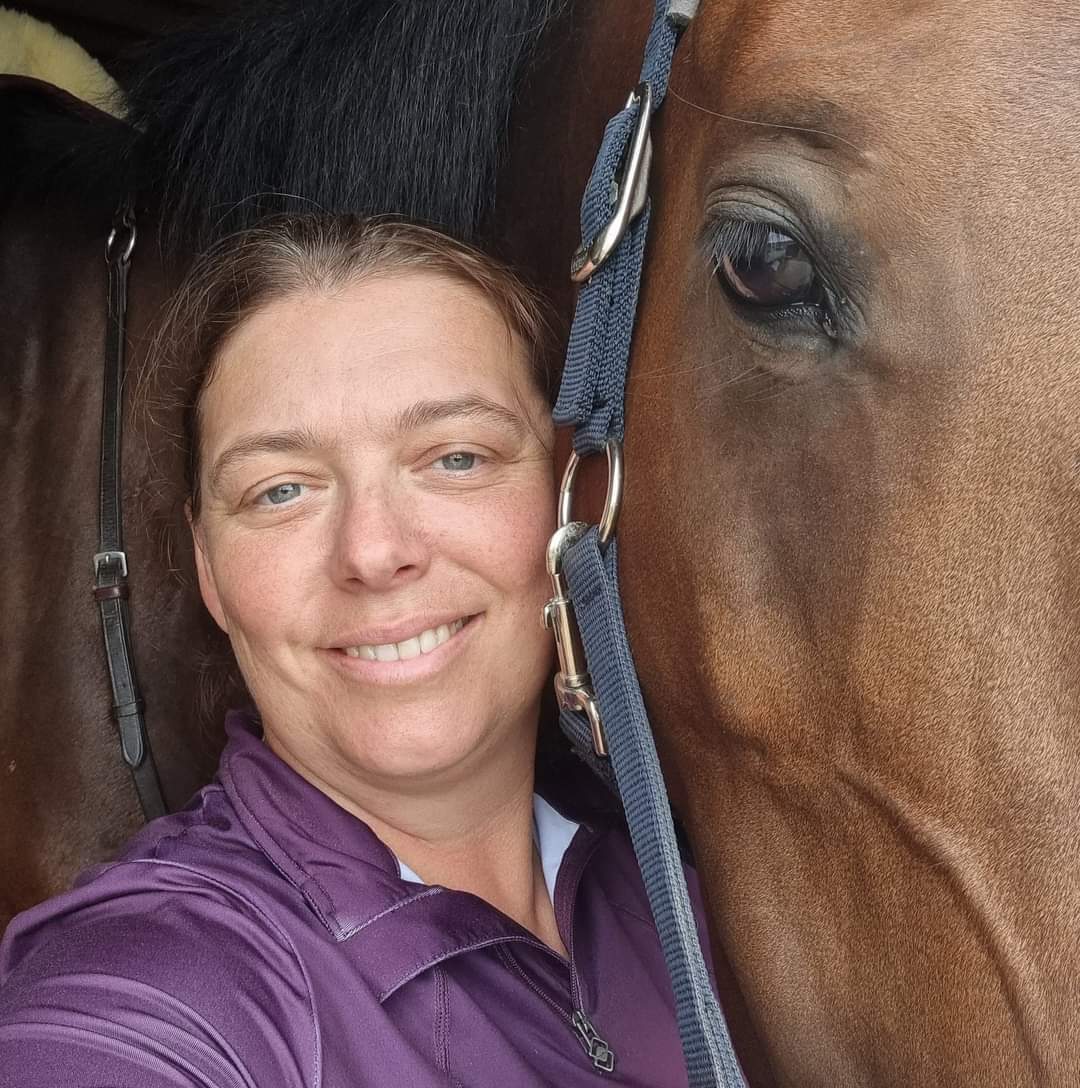 Judith Stones
Judith is a British Horse Society Stage 4 Senior Eventing Coach, with many years experience coaching leisure, career and competitive riders. She has trained and competed horses in Dressage, Showjumping and Eventing. In her teens she also worked in the film and TV industry training and riding horses on film sets.
Judith joined us in May 2021 and has recently added our Pony Club, BHS Challenge Awards and BHS Pony Stars programmes to her portfolio of responsibilities. Judith is currently working towards her BHS Stage 5 Performance Coaching Qualification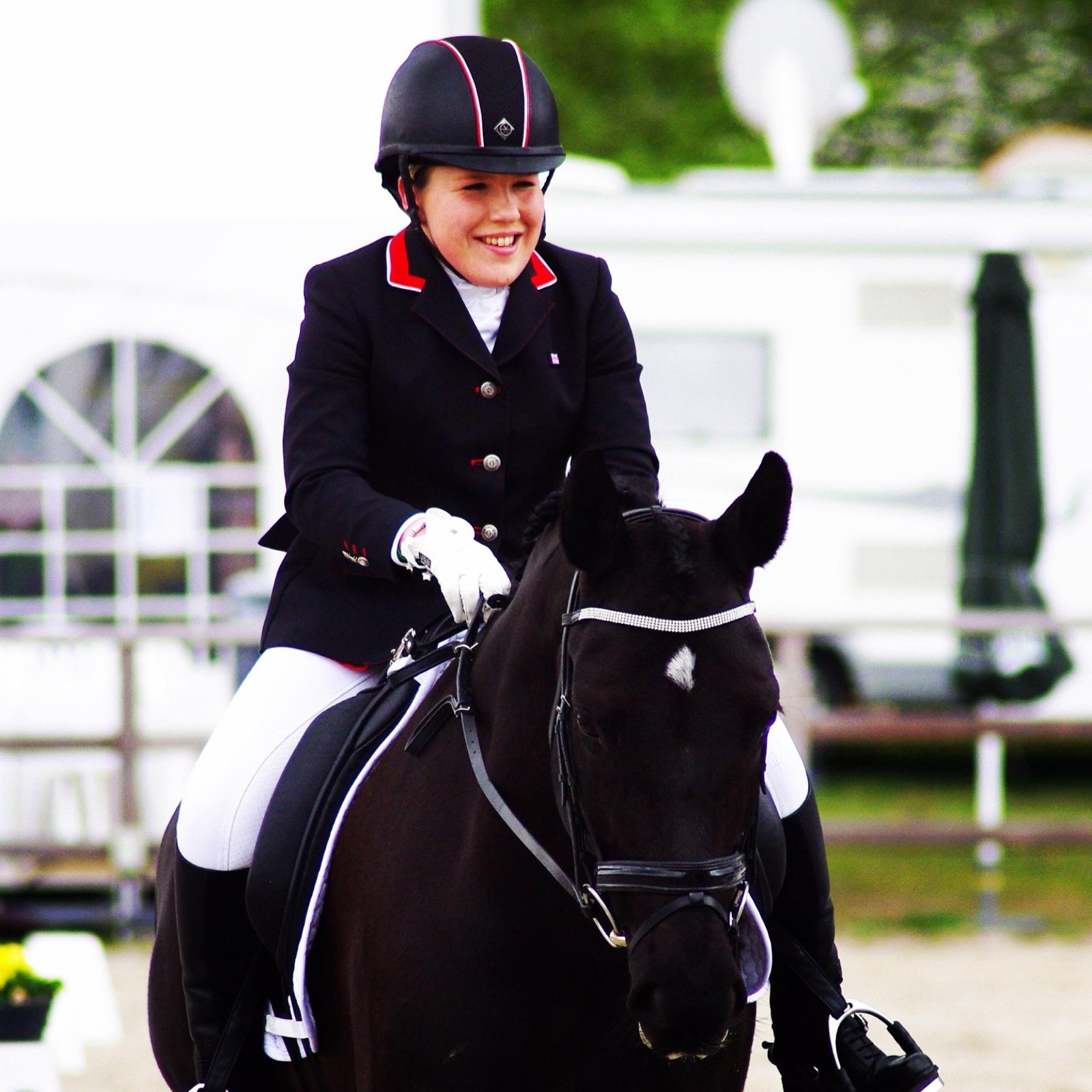 Natasha Adkinson
Hi, I'm Natasha and I'm an International Para Dressage Rider for Great Britain and a qualified UKCC Level 2 Coach. I started coaching at Grove House Stables in September 2021 and I'm thoroughly enjoying being part of the team.
I have grown up with horses and been riding for more than 20 years, starting off at the local riding school, joining the Pony Club and British Young Riders Dressage Squad as well as competing in dressage, show jumping and eventing. When I was 16, I was talent spotted for Para Dressage and have been representing Great Britain ever since. I was long listed for the Tokyo 2021 Paralympics, selected for the Europeans, reserve for the Rio 2016 Paralympics and 3 x British National Champion.
I am passionate about coaching both horse and rider, regardless of what stage of their journey they are at, so that they can reach their goals in riding, whatever they may be. I am enthusiastic, caring and committed to both my horses and coaching so I am keen to share the knowledge and skills that I have required over the years with the people I teach, helping to build relationships between horse and rider. My main focus is dressage, and I am loving coaching all ages and ranges of ability, including Pony Club and recently taking on the responsibility of developing the BHS 'Changing Lives Through Horses' programme and the challenges that this involves.
Looking to the future, I am concentrating on combining my career as an equestrian coach with continuing to work with my own horses with their training and competition programme, working towards selection for the World Equestrian Games in 2022 and the Paris 2024 Paralympics.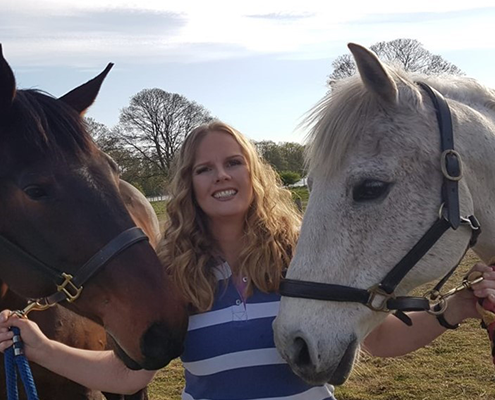 Leanne Ducker
I started at GHS in November 2017, as a temporary office assistant, but now I am the Liveries Manager.
Grove House Stables is my first employment within the equine industry and I am really enjoying the role. I am learning every day and love developing and expanding my knowledge in all aspects of horse care and riding.
I got my first pony when I was 4 years old, and haven't been without one since! Horses have been my hobby for nearly 40 years!
As a child I didn't have "horsey parents" or many riding lessons, I just had ponies on loan in a field which I just got on and rode! I'd read pony magazines for tips on how to improve.
Over the years I have done a bit of unaffiliated competing, mainly in show jumping. I do really enjoy the thrill of cross country, but my dad was never keen on me doing it, he preferred the show jumps that would fall down!
Since working with the team at GHS I have been inspired to improve my flat work, which has fueled my new interested of competing at dressage.
I am passionate about the health and well-being of the horses in my care, including my own horses and the Riding School and Livery horses at Grove House Stables.
I have 2 horses within my family:
David – my old friend is now 26 years young; I've had him since he was 4. He is still excitable and full of energy. He is in light work, loves his jumping and is ridden by my daughters.
My project is Elliot; I also bought him as a 4 year old, 2 years ago. It has been a slow process but I think I have recently made great progress with my riding. My ultimate dream is to event him (just at low level) before I get too old!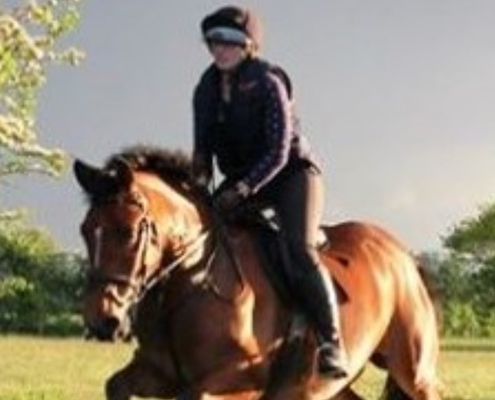 Samantha Waites
I started working at Grove House Stables in September 2019, and recently became the Yard Manager in March 2020. After learning to ride here myself as a child it's great to be back.
Prior to working at GHS, I worked for an Equine veterinary practice for over 15 years, and before that I worked a livery and sales yard caring for and riding the horses.
I very much enjoy my role at GHS taking care of such lovely horses and ponies, and teaching so many enthusiastic riders, and watching them progress and have fun.
I have previously done my NVQ stages in horse care, and I am currently working towards my BHS stages.
I got my first horse at 13 and although he wasn't exactly the most suitable first horse he taught me so much. Since then I have competed at BSJA and British Eventing and more recently Affiliated Dressage, with my current horse Dudaley who I bought as a 2 year old and broke in myself. I am hoping to get back into Eventing as love the challenge of all phases and the excitement of the cross country.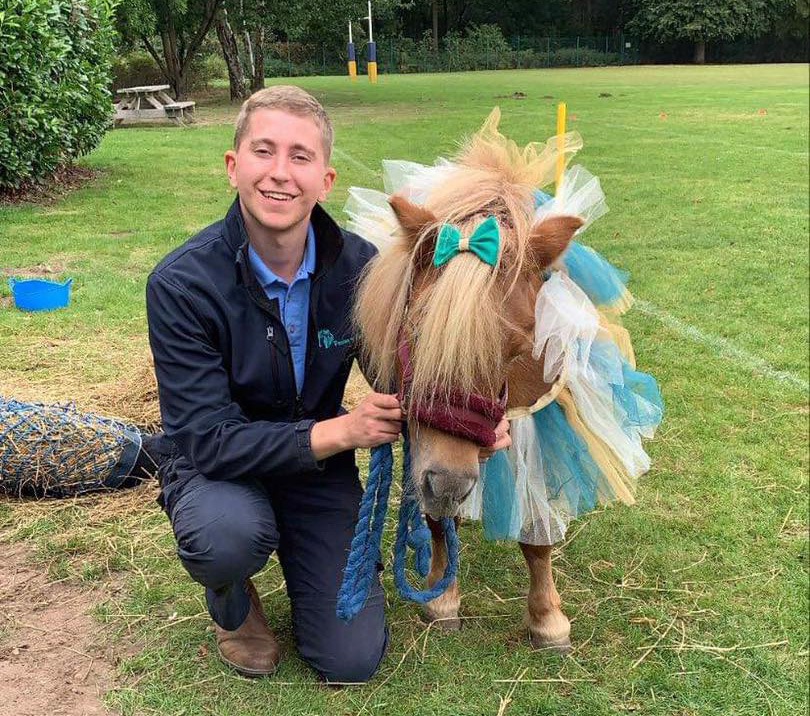 Jed Pedley
Jed has worked with horses for the last 11 years. More specifically, over the last seven years he has worked with children and young adults with special needs. Through this work, he has seen how horses can develop people's confidence and self-esteem whilst helping them find the happiness and well-being horses can provide.
Jed is the lead instructor of disabled riding provision, and it is hoped this will continue to grow and help those who need it in the local community.
In addition, Jed is part of a specialist external multidisciplinary team that help young people with acquired brain injuries. They attend sessions at Grove House Equestrian Centre working on specific areas with the horses, which transfer into life skills, improved confidence, and general well-being.
Using natural horsemanship, Jed works with the horses to ensure they feel comfortable in any situation and are able to perform to the best of their abilities. Happy horses are very important, so their welfare is a top priority.
Jed's passion is show jumping, and he and his horse, Summer, compete at many British Show Jumping events together. A highlight was competing at the major show jumping festival at Arena UK a few years ago, which was always a dream of Jed's. He has also competed at the national riding club championship at Lincoln Showground, another big highlight of his riding career so far.
Says Jed, 'My horse, Summer is a 13-year-old British Sports Horse, who I've owned for five and a half years. She loves jumping and can be quite feisty but she shows her soft side when the children come to say hello to her.'
Jed's knowledge, horsemanship and gentle empathy with both horse and rider makes him a huge asset to Grove House Stables.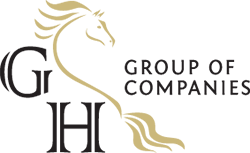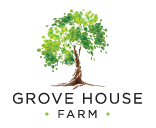 Grove House Farm was built in 1811 and has for over two hundred years played an important role in rural farming community of Misterton.
A newly refurbished 200 year old Georgian farmhouse. A choice of elegant, classic rooms each with their own en-suite facilities.